TapHouse Bar & Grill is KingPins' full service lounge and sports bar. With a variety packed menu and 24 beers on tap, TapHouse has something for everyone. It includes a boutique bowling lounge and two drop screens to catch the big game or latest music video in an action-packed atmosphere. Join us for breakfast, lunch, dinner or happy hour!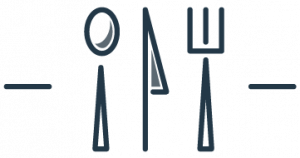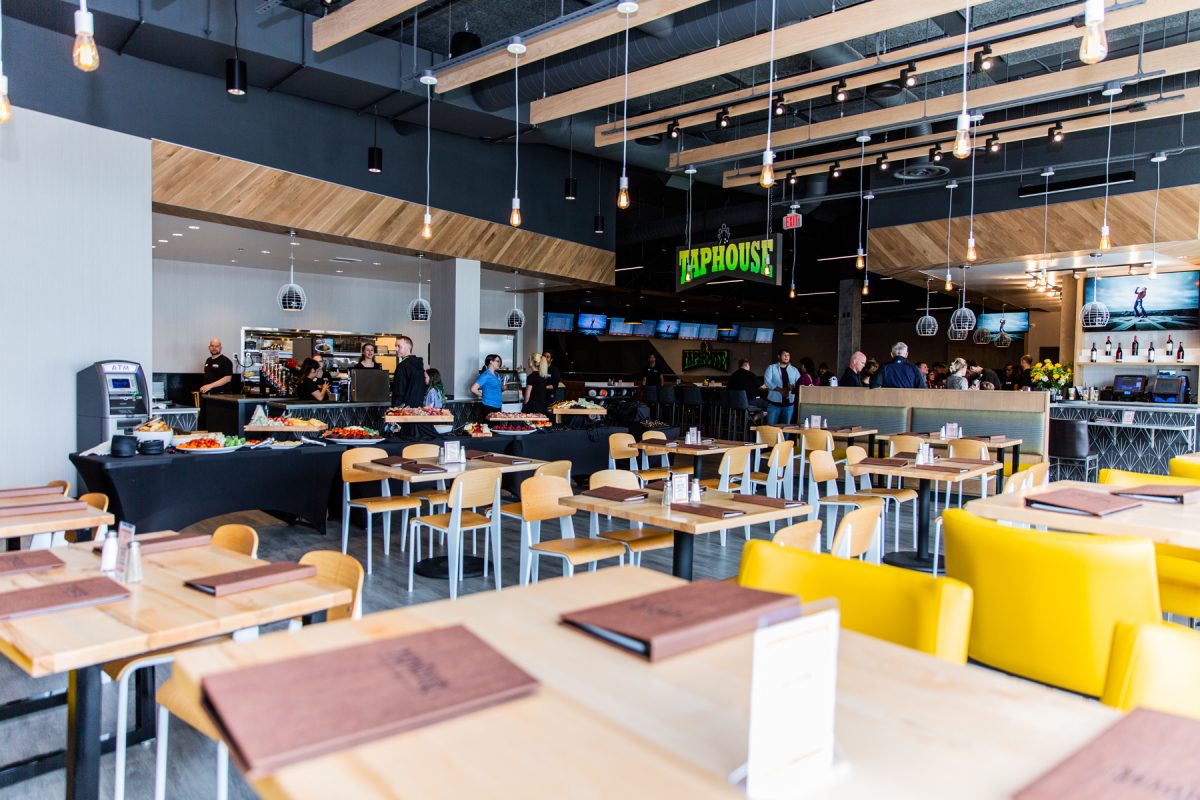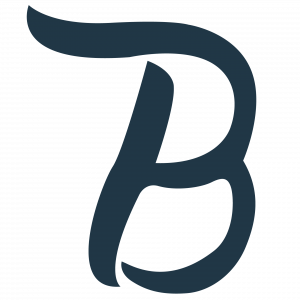 BEAVERTON – CEDAR HILLS BLVD
Our menu items include a wide array of high end appetizers, quality burgers, hand crafted sandwiches, wraps, salads, soups, pizza and speciality items like quesadillas and oven roasted subs.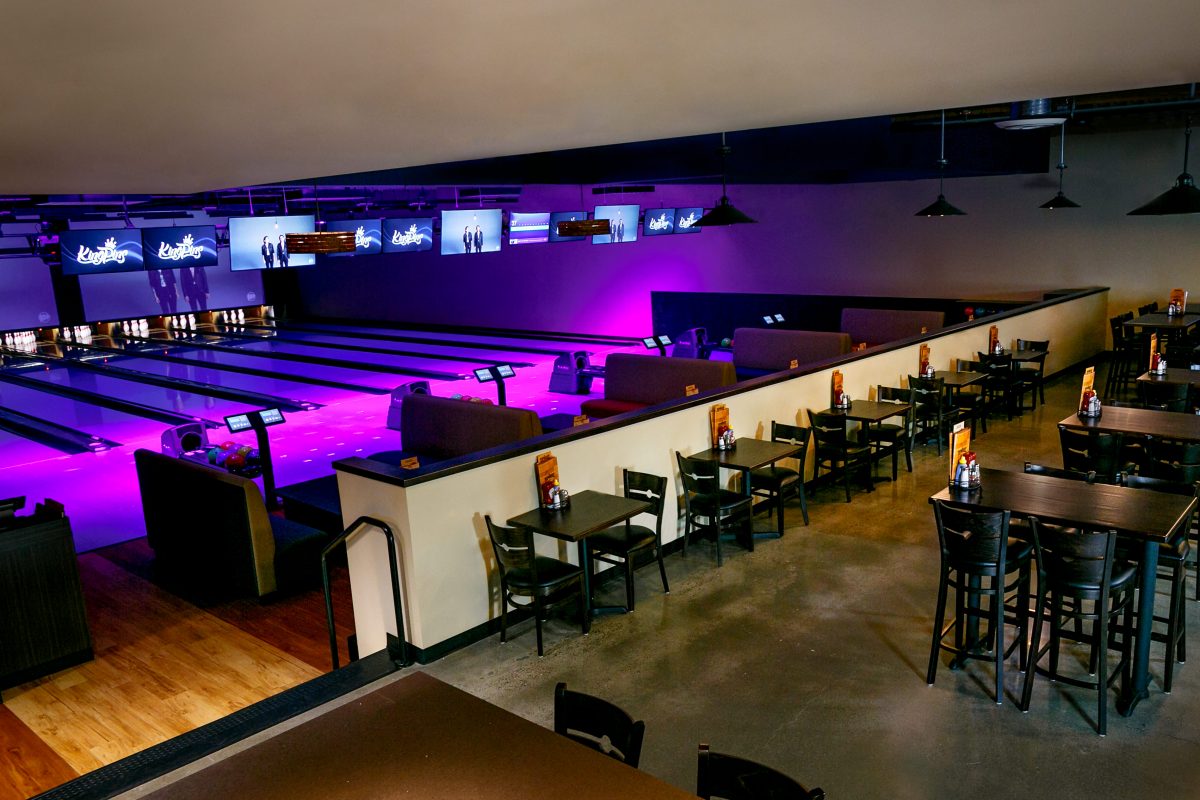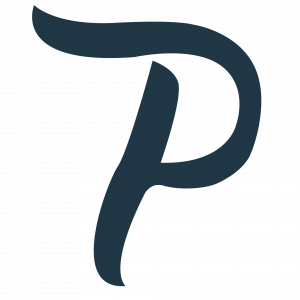 PORTLAND – SE PORTLAND
Providing a full menu for dine in, lane side service or to-go. Speciality cocktails, beer, wine and a full-bar make the TapHouse an easy choice for family dinners, date nights or celebrating the team's big win!
**On Friday & Saturday nights after 9pm the TapHouse is 21 and over for all guests.

NOW GET MORE FUN FOR YOUR MEAL! CHOOSE ANY STARTER OR ENTREE AND GET A $20 FUNCARD FOR $24.99. SAVE EVEN MORE WITH A $30 FUNCARD AND ENTREE FOR $29.99.
(Excludes Large Pizzas, Full and Sharable Wings)
HOUSE CREATIONS COCKTAILS
HOT IN HERRE
SPICY & LUSCIOUS
Thai Chili Infused Monopolowa, St. Germaine, Yellow Chartreause & Lime
OVERNIGHT CELEBRITY
REFRESHINGLY JUICY
Cazadores Blanco, Aperol, Giffard's Grapefruit Liqueur, Lime & Soda
THE NEXT EPISODE
UNIQUE & COMPLEX
Aviation, Camapari, Blood Orange, Lemon and Egg Whites
21 QUESTIONS
SMOOTH & BOOZY
Templeton Rye, Benedictine, Dry Vermouth, Angostura Bitters, Reagan's Orange Bitters, Ice Sphere & Mezcal Spray
WHISKEY SOUR
SWEET & ACIDIC
Buffalo Trace, Angostura Bitters, Lemon & Egg Whites
SOUL PLANE
TART & FULL OF FLAVOR
Blueberry Infused Aviation Gin, Lemon & Egg Whites
WAKE ME UP BEFORE YOU BOWL
RICH & SLIKY
Tito's, Frangelico, Stok Cold Brew, Half and Half & Fresh Whipped Cream
MOJITOS
REFRESHINGLY COOL
Mint Infused Bacardi, Lime & Soda
Add Flavor… Blackberry, Pineapple, Strawberry, Mango, Prickly Pear or Blood Orange
SPICE UP YOUR LIFE
FIERY & ROBUST
Thai Chili Infused Cazadores Reposado, Cointreau, Lime & Blood Orange
STRAWBERRY BASIL MULE
DELIGHTFULLY SPICED
Strawberry Basil Infused Tito's, Lime & Cock N' Bull Ginger Beer
PURPLE RAIN
BRIGHT & FLORAL
Aviation, Giffard's Creme de Violette, Lemon, Rosemary Tincture & Egg Whites
CLASSIC MARGARITAS
FRESH & CITRUSY
Cazadores Blanco, Cointreau & Lime
Add Flavor… Blackberry, Pineapple, Strawberry, Mango, Prickly Pear or Blood Orange
MONDAY – FRIDAY 3pm to 6pm | SUNDAY – THURSDAY 9pm to Close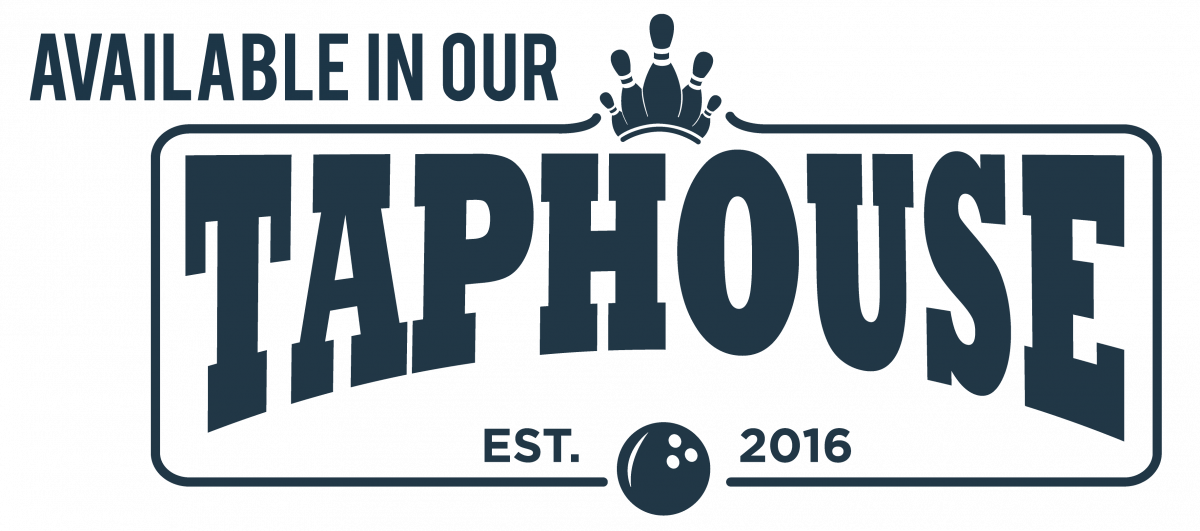 DRINKS
$4.5 WELL COCKTAILS
$4.5 HOUSE WINES
$3.5 DOMESTIC PINTS
$4.5 CRAFT PINTS
$4 FOOD
SPINACH ARTICHOKE DIP (GF)
Creamy spinach and artichoke dip, topped with parmesan cheese and served with fresh tortilla chips.
CORNDOG BITES
5 mini corndogs served with your choice of dipping sauce
FRENCH FRIES OR TOTS
Choice of House or Cajun seasoning (GF)
CAESAR SALAD
Fresh romaine, parmesan, house croutons and Caesar dressing
$6 FOOD
POPCORN SHRIMP
Half pound of deep-fried breaded shrimp. Served with Sweet Chili sauce or Cocktail sauce
FOCACCIA SANDWICH
Salami, capicola, provolone cheese, mixed greens and roasted red pepper aioli on fresh made focaccia bread
CHICKEN KATSU
Panko breaded chicken thigh, white rice, passionfruit sweet chili
STREET TACOS
Choice of Chicken, Pork or Ground Beef with diced onion, cilantro & jalapeño cream (GF)
$8 FOOD
SMALL BUILD YOUR OWN PIZZA
Your choice of up to two toppings
BUFFALO WINGS
Traditional chicken wings tossed in your choice of sauce: TapHouse BBQ, Mango Habanero, Mild or Hot Buffalo
SHRIMP CEVICHE (GF)
Citrus marinated shrimp with red onion, cucumber, tomato, cilantro and avocado. Served with fresh tortilla chips
NACHO
Tortilla chips, jalapeño, black olive, tomato, black bean, cheddar & jack cheese, queso blanco, green onion, sour cream, guacamole with choice of meat (GF)