Eat, Roll, Play at KingPins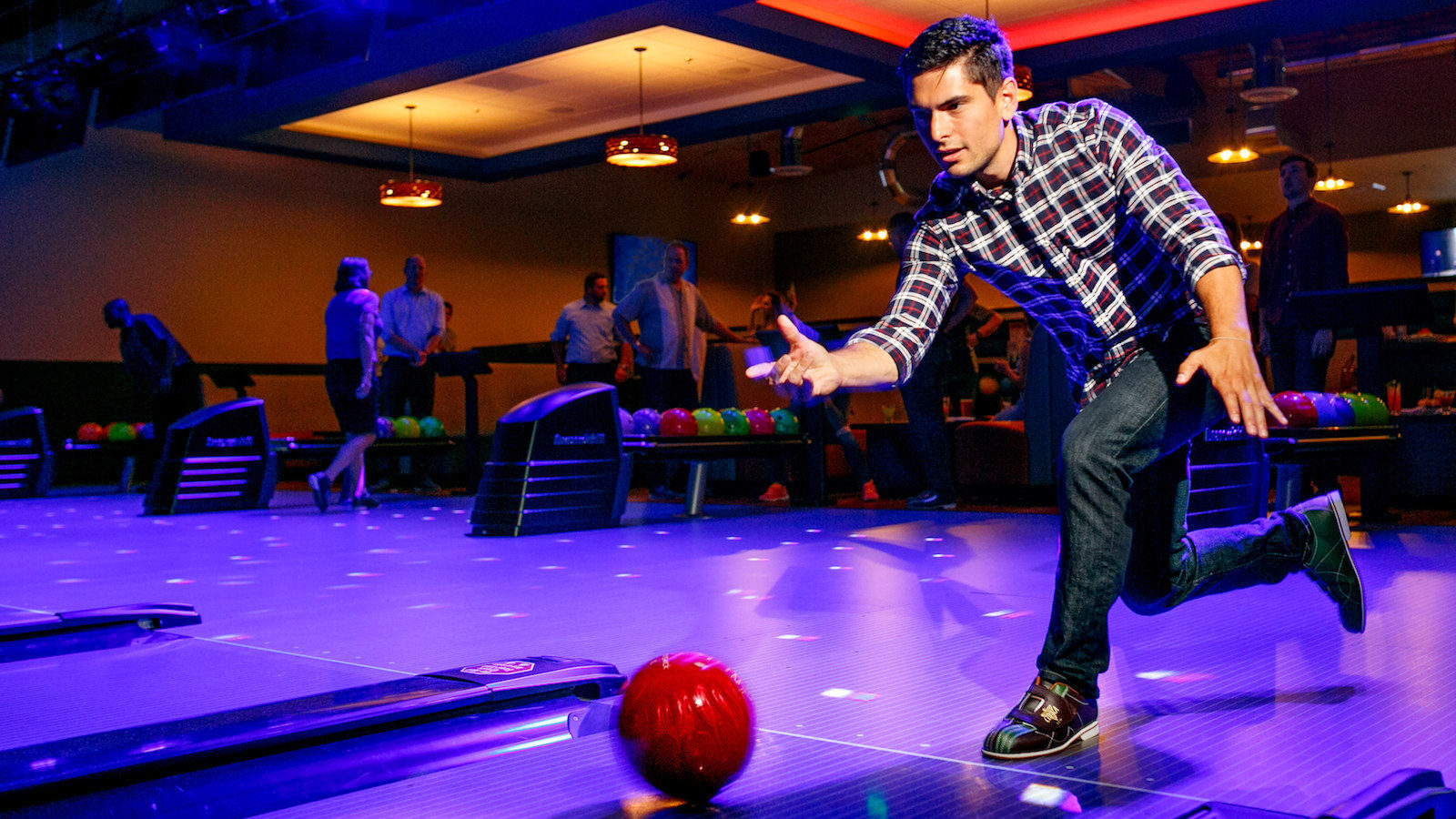 Looking for a day full of entertainment for all ages? KingPins is the place to be with fun for everyone! Whether you're looking for some casual or competitive bowling, grabbing a bite from our delicious TapHouse Bar & Grill, or racking up points in our arcade, KingPins has everything you need when you're looking for quality entertainment.
Eat
Bowling for hours on end will inevitably work up a big appetite! The KingPins TapHouse Bar & Grill features an extensive menu of comforting pub food that's not like your normal alley-cat fare. Juicy burgers, pizza with all the fixings, and the best wings in town are just a few examples of delicious food on the menu at KingPins. Early birds can enjoy a bounty of hearty breakfast fare, from cheesy omelettes to breakfast burritos. With plenty of vegetarian options, a special menu for kids and seniors, and lighter options like salads and appetizers, there's something to satisfy every craving. Guests with a sweet tooth can indulge in a variety of treats on the dessert menu, including a giant chocolate chip cookie, served warm and gooey with vanilla ice cream. Find the perfect beverage to accompany your meal, whether it's a milkshake, a slushy, or specialty cocktail. Our bartenders offer delicious drinks using fresh ingredients to match every season. Get cozy with a Caramel Apple cocktail in the fall or imagine soft summer sands on the beach with a Mango Daiquiri. Beer lovers will appreciate the 24 beers on tap from favorite local breweries, plus monthly deals on featured brews for $3.50! If you're looking for a great bang for your buck, check out the TapHouse happy hour menu for deals on drinks, $4 eats, plus pizza and a pint for under $10. The TapHouse Bar & Grill has options for any appetite, with convenient lane-side service so you don't have to pause your game to enjoy your meal.
Roll
KingPins knows how to do bowling right, no matter what kind of experience you're looking for! Grab a group of friends for some casual competitive play over pitchers of beer, or have a night out with the kids and bowl in a family-friendly environment. KingPins offers bumpers and ramps so kids of all ages and experience levels can join in the fun. If you're looking to up your game, sign up for a Bowling 2.0 class perfect for beginners and learn the fundamentals of bowling. Kids and adults can learn the best tips and tricks from the pros to drive up their average score. The best part? Classes are free! And there's more free fun to be had: every May-September, kids bowl free at KingPins. There's no such thing as being bored this summer when you have free entertainment at your fingertips. Beat the summer heat, reduce screen time, and get active and social in a fun and safe environment at KingPins.
Want to mix things up with your date night routine? Why not challenge your S.O. to 10 frames of fun? The lanes in the TapHouse Bar & Grill offer couch-style seating and a lounge-type atmosphere that's the perfect setting for a night of entertainment. If you're out late-night on the weekend, you'll have the opportunity to enjoy glow-in-the-dark cosmic bowling, complete with laser lights and a variety of music to get you pumped for your game. Dance along to music videos on 16 foot TVs that feature all your favorites, from the latest contemporary hits to epic 90s throwbacks. You just might want to bowl all night long!
For guests who are looking to join a league or club, KingPins offers both competitive and casual options every season. You'll have a blast enjoying the game, perfecting your craft, and making friends along the way with league and club play at KingPins. With a variety of clubs and leagues for all ages, plus handicaps to help level the playing field, there's a way for everyone to get involved in a little friendly competition!
Play
When you're ready to hit the arcade at KingPins, you won't be disappointed with the variety of options available! Enjoy classics like NBA Hoops, Skee Ball, or air hockey and collect your winnings by redeeming your tickets at the Winner's Court. Tickets are conveniently counted on your Fun Card so you can easily reload each time you play. Prizes include toys, games, stuffed animals, and more. If you've really saved up, you can even redeem tickets for a brand new bike! Guests visiting the KingPins Beaverton location can also enjoy a new and completely immersive experience with virtual reality games. With classic arcade choices mixed with cutting-edge technology offerings, you'll never get bored at the KingPins arcade.
An exciting feature exclusive to the KingPins Beaverton location is the 3,800 square foot laser tag arena! Suit up in your vests and enter the Earthquest Avatar-themed arena – you'll immediately become immersed in the heart-pumping action amongst the black lights, haze, and bumpin' music. Work together with your teammates to seek out and tag your opponents for a high score before time runs out! Laser tag is the perfect group activity for kids and adults alike. You won't be able to resist the thrilling action, whether you're at KingPins for a birthday party or a corporate team-building event.
Events at KingPins
With so many forms of entertainment to offer at KingPins, it's the perfect place to host your next event! Make a day of it with party packages to fit any need; you can eat, roll, and play all day. KingPins offers birthday packages specifically tailored to kids, teens, and adults, with a variety of options for each group. Experience every aspect of KingPins with bowling, food, and loaded Fun Cards to play at the arcade. Enjoy a lane-side buffet from our scrumptious catering menu so your guests never go hungry. With so many types of entertainment at KingPins, your guests are guaranteed to leave with amazing memories of time spent together. Packages are easily customizable by the KingPins event staff for all types of occasions, like corporate team-building days, fundraisers, sports team parties, and more. Think your group is too big for an event at KingPins? Think again! KingPins can accommodate groups between 10 and 500 people, and can be completely rented out for the full VIP treatment. Let's get this party started!
The moment you step in the door of KingPins, you'll be greeted with a welcoming and friendly atmosphere that you won't soon forget. Guest satisfaction is a top priority, and quality entertainment and service is what KingPins is known for. KingPins celebrates with you when you get that strike, when you blow out your birthday candles, or when you beat your top score in the arcade. While you may leave with only a memory, you'll also leave knowing that you're a part of the KingPins family.